Benjamin E. Hoover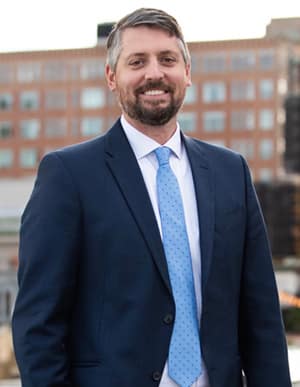 Associate
Location: Wichita Falls, Texas and Lawton, Oklahoma
Phone: 940-213-0828
Email: Email Me
BACKGROUND
Ben Hoover is an experienced trial lawyer who dedicates his practice to injury, wrongful death and criminal law cases. He is licensed to practice law in Texas, Oklahoma and Federal Court.
Ben joined The Nix Law Firm in 2012 after serving as a felony prosecutor in the Wichita County District Attorney's Office for 5 years. Ben aggressively seeks justice for people who have suffered harm at the hands of others. He believes that every client is important, regardless of whether the damages were catastrophic or less severe. In addition, Ben strongly believes that every citizen who is accused of a crime is entitled to a presumption of innocence and a lawyer who will fight.
He has successfully obtained verdicts and settlements for his clients in wrongful death, auto collision, dangerous products, vicious dog attack, criminal, slip and fall and property damage cases.
In September 2017, Ben's client faced a plea offer of 37 years during trial but, after a 6-day trial, walked out a free man after the jury determined he was not guilty of a felony.
In August 2017, after a thorough investigation, Ben proved his client was wrongly indicted for felony theft and misidentified in surveillance video by his tattoos; the case was dismissed.
In July 2016, Ben obtained a favorable jury verdict on a zero-offer case where his client was struck in the crosswalk by a vehicle fleeing from a store theft.
In April 2016, Ben obtained a trial verdict of probation for a young man who was facing a pretrial plea offer of 10 months jail for a non-violent offense.
In January 2016, Ben obtained a jury verdict exceeding the insurance company's pretrial offer in a car wreck case where the officer placed fault on both his client and the other driver.
During his tenure at the District Attorney's Office, Ben prosecuted hundreds of felony, misdemeanor and asset forfeiture cases. From 2007-2011, he tried more jury trials in the District and County Courts of Wichita County than any other lawyer. Ben was lead-counsel in 20 felony jury trials during that period, along with numerous misdemeanor trials. In addition to trial work, he has authored appeals filed in both the Texas Supreme Court and Courts of Appeals.
Ben was inducted into the National Trial Lawyers Top 40 Under 40 in 2016 and later inducted into the Top 100 in 2018. He was elected as a Fellow of the Texas Bar Foundation in 2014- less than one percent of attorneys are selected each year for this distinction. The Times Record News recognized Ben as a 20 Under 40 recipient in 2012 for career achievement and community involvement. He was the President of the Wichita County Bar Association from 2010-2011, having previously served as both an officer and director. In 2010, the Texas District and County Attorney's Association appointed him to serve on the Editorial Committee for The Texas Prosecutor, the statewide publication for prosecutors.
In addition to his law practice, Ben served as a Wichita Falls City Councilor from 2013-2015. He also taught criminal justice courses as an adjunct professor of criminal justice at Midwestern State University from 2008-2014. He has also been a guest lecturer for criminal justice courses at his alma mater, Howard Payne University (HPU). In 2014, he was honored as the Outstanding Young Graduate of HPU.
During law school at Texas Tech, Ben was a successful competitor in Board of Barristers trial competitions. He also worked part-time in the Texas Tech Athletic Department as a mentor to student athletes. While at HPU, Ben was elected as the Student Body President by his peers and also participated in moot court.
EDUCATION
Howard Payne University (B.S., 2003)
Texas Tech University School of Law (J.D., 2006)
BAR ADMISSIONS
Licensed to practice in all Texas state courts
Licensed to practice in Oklahoma state courts
U.S. District Court, Northern District of Texas
U.S. District Court, Western District of Oklahoma
PROFESSIONAL ASSOCIATIONS
State Bar of Texas
Wichita County Bar Association
National Trial Lawyers, Top 40 Under 40
American Association for Justice
Texas Criminal Defense Lawyers Association
Texas Bar Foundation
PUBLICATIONS
Battling gang violence, The Texas Prosecutor, Volume 37, No. 5; September-October 2007, p. 20.
A stormy childhood, now calm, The Texas Prosecutor, Volume 39, No. 6; November-December 2009, p. 33.
What lies beneath, The Texas Prosecutor, Volume 40, No. 5; September-October 2010, p. 37
Three's the key…but you'll need more, The Texas Prosecutor, Volume 42, Number 1; January-February 2012, p. 20.
PERSONAL
Ben is married to Meagan and has three children, Grant, Blair and Arden. His interests include coaching youth baseball and basketball, hunting and fishing and spending time with his family. Ben was raised in Paradise, Texas. His family attends Grace Church in Wichita Falls.