Amputation Injury
Did a serious accident caused by someone else result in loss of limb for you or a loved one? Whether your amputation injury was suffered on a highway or on the job, inflicted by a careless motorist or defective heavy work machinery, the skilled personal injury lawyer who protects your rights is David M. Nix of The Nix Law Firm.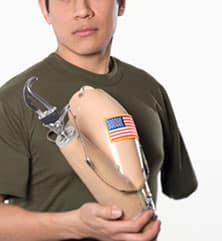 Attorney Nix serves clients in the Texoma region between Wichita Falls, Texas, and Lawton, Oklahoma — and has for decades, building a significant track record of success in the process.
As a matter of fact, Mr. Nix is the only personal injury attorney in the Texoma region to be named a Top 100 Trial Lawyer by The National Trial Lawyers; a finalist for National Trial Lawyer of the Year, as named by the Public Justice Foundation; Board-Certified in Personal Injury Trial Law by the Texas Board of Legal Specialization; Nationally Board-Certified in Civil Trial Advocacy by the National Board of Trial Advocacy; and recognized as a Super Lawyer in Texas Monthly magazine since 2006.
If you suffered an amputation after an accident on the highway, on the job, on unsafe property or while using a dangerous product, you can fight back — and David M. Nix will fight right alongside you. Our personal injury law office's founder will listen to your account of what happened, speak truth to the power of insurers and litigate aggressively against them, if necessary, to increase your chances of obtaining the maximum financial compensation you deserve.
The Nix Law Firm — Dedication, Commitment, Experience Benefiting Texoma Clients
Contact us. Your initial consultation is free. Our number is 940-213-0828. If you need Mr. Nix to come to your home or hospital room, please tell us. Our contingency fee policy means that you owe no attorney fee unless we win your case.