Distracted Driving Accident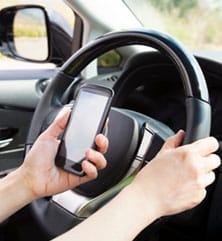 Texting and driving accidents injure thousands, ruin futures and claim lives every day in Texas, Oklahoma and the U.S.
Were you seriously injured, or a loved one killed, in a motor vehicle accident caused by a driver who was more interested in a text message or cellphone conversation than obeying safe driving laws and customs?
In the Texoma region between Wichita Falls, Texas, and Lawton, Oklahoma, the skilled personal injury lawyer who works hard to win the maximum financial compensation you deserve is David M. Nix, founder of The Nix Law Firm.
David M. Nix has the dedication, commitment and experience that can make a positive difference in your life after a distracted driving accident injury or relative's wrongful death. The reputation he has built during his decades of successful service includes these designations:
Top 100 Trial Lawyer by The National Trial Lawyers
Finalist for National Trial Lawyer of the Year, as named by the Public Justice Foundation
Board Certified in Personal Injury Trial Law by the Texas Board of Legal Specialization
National Board Certified in Civil Trial Advocacy by the National Board of Trial Advocacy
Super Lawyer in Texas Monthly magazine since 2006
Mr. Nix is the only injury attorney in the Texoma region to collect these accolades. David's significant recoveries resulted in his being named a lifetime member in the Million Dollar Advocates Forum, an association reserved for attorneys who have been lead counsel in cases in which the recovery has exceeded One Million Dollars!
David M. Nix is uniquely qualified to represent you — from your free initial consultation to investigation of your accident to negotiations with insurers and arguments before judge and jury if necessary. These quality legal services come to you on a contingency fee basis: You owe no attorney fee unless the Nix Law Firm wins your case.
Experienced Personal Injury Attorney David M. Nix Protects Your Rights After Distracted Driving Accidents
Distractions while driving are not strictly text- and phone-based. A driver can be distracted by passengers, reading, applying cosmetics, listening to music, eating or drinking. We invite you to discuss the details of your distracted driving accident in confidence with David M. Nix. Contact our lawyer today. He can visit your home or hospital room if your injury has confined you there. Reach us by call to 940-213-0828 or by email message.