Motorcycle Injury Lawyer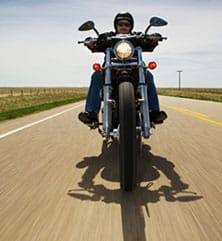 Despite state laws and the need for common sense on our highways, drivers of conventional motor vehicles and commercial trucks continue to refuse to "see" motorcyclists — and accord them their fair share of the road.
Did the negligence of another motorist cause an accident that injured you or a passenger while you rode your motorcycle? Have you struggled with health and financial hardships ever since a motorcycle wreck?
In the Texoma region of Texas and Oklahoma, from Wichita Falls to Lawton, the skilled motorcycle injury lawyer who aggressively advocates for you after a serious accident is David M. Nix, founder of The Nix Law Firm.
As your personal injury attorney, David M. Nix brings unique professional credentials and personal qualities to the protection of your rights, including these recognitions:
Top 100 Trial Lawyer by The National Trial Lawyers
Finalist for National Trial Lawyer of the Year, as named by the Public Justice Foundation
Board Certified in Personal Injury Trial Law by the Texas Board of Legal Specialization
National Board Certified in Civil Trial Advocacy by the National Board of Trial Advocacy
Super Lawyer in Texas Monthly magazine since 2006
David's significant recoveries resulted in his being named a lifetime member in the Million Dollar Advocates Forum, an association reserved for attorneys who have been lead counsel in cases in which the recovery has exceeded One Million Dollars!
If your motorcycle accident left you in tatters, physically and emotionally, requiring expensive surgery and sidelining you from your job, David M. Nix and The Nix Law Firm will safeguard your interests during investigation, negotiation and, if necessary, litigation of your case.
Motorcycle accidents can leave all kinds of devastation in their wake, including brain and spinal cord injury, paralysis and amputation. If you face an uncertain future after this kind of collision caused by negligence, contact The Nix Law Firm for an initial consultation.
Injured In a Motorcycle Wreck Call Today
David M. Nix can visit your home or hospital room to speak with you if your injuries prevent travel. Call David's Wichita Falls office at 940-213-0828, or his Lawton office at 580-713-0871. Your email will receive our prompt reply.
Thanks to our contingency fee policy, you owe no attorney fee unless The Nix Law Firm wins your case.