Premises Liability Lawyer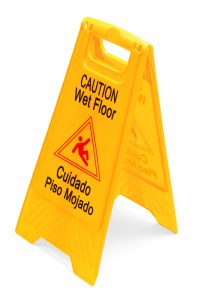 When a serious slip-and-fall injury hospitalizes you, sidelining you from your job while medical bills pile up, one Wichita Falls premises liability lawyer has the dedication, commitment and experience that can repair your health and finances — and help return your life to normal.
Attorney David M. Nix and The Nix Law Firm protect the rights of Texas and Oklahoma clients in the Texoma region who have suffered jarring, painful accidents on unsafe property, resulting in personal injury claims against property owners, managers and landlords.
David M. Nix brings unique qualifications to your side while aggressively protecting your rights. He has served a diverse clientele for decades. His law office has recovered millions of dollars in damage awards for injured motorists, and workers and families grieving wrongful deaths. And no other personal injury lawyer in the region possesses this unique combination of professional accolades:
Top 100 Trial Lawyer by The National Trial Lawyers
Finalist for National Trial Lawyer of the Year, as named by the Public Justice Foundation
Board Certified in Personal Injury Trial Law by the Texas Board of Legal Specialization
National Board Certified in Civil Trial Advocacy by the National Board of Trial Advocacy
Super Lawyer in Texas Monthly magazine since 2006
Look to The Nix Law Firm for sound guidance and solid support, start to finish, when any form of premises liability negligence seriously injures you and costs you income and medical expenses. Whether your accident was due to a trip-and-fall on a slick floor; cracked and uneven payment and potholes; debris, oil and other slippery substances; damaged, cracked and dislocated wheel stops; insufficient numbers of security personnel in a parking lot; or inadequate lighting in a dangerous area, The Nix Law Firm will aggressively safeguard your interests.
For in-depth accident investigation, skillful negotiations with insurers and forceful litigation that sends a strong message, contact us. Your initial consultation is free of charge. Our contingency fee policy means that you owe no attorney fee unless Mr. Nix wins your case.
Quality Premise Injury Representation For Texoma Clients In Wichita Falls And Lawton
Call today, — 940-213-0828. Your email message will be responded to promptly. Home and hospital visits are available upon request.