Traumatic Brain Injury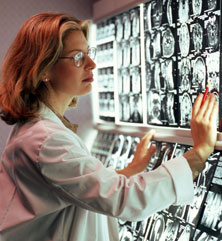 Has a concussion, traumatic brain injury or spinal cord injury suffered in an accident taken its toll on your life — and your family's finances and emotions?
In the Texoma region of Wichita Falls, Texas, and Lawton, Oklahoma, the brain and spinal cord injuries attorney who protects your right to pursue maximum financial compensation is David M. Nix of The Nix Law Firm.
David M. Nix is a skillful injury lawyer who protects the rights of victims of accidents caused by negligence — accidents in motor vehicles and the workplace and on unsafe property that cause serious brain damage, spinal column damage, coma and paralysis.
Mr. Nix is the only personal injury attorney in the Texoma region to be named a Top 100 Trial Lawyer by The National Trial Lawyers; a finalist for National Trial Lawyer of the Year, as named by the Public Justice Foundation; Board-Certified in Personal Injury Trial Law by the Texas Board of Legal Specialization; Nationally Board-Certified in Civil Trial Advocacy by the National Board of Trial Advocacy; and recognized as a Super Lawyer in Texas Monthly magazine since 2006.
As your lawyer, David M. Nix will listen to your description of what happened, answer your questions, investigate the cause of your accident, bring detailed fact-finding to insurers for a negotiated settlement and litigate forcefully for you in court if the insurance company is not cooperative. These quality legal services — designed to help you recover all accident-related expenses, including pain and suffering — are delivered on a strict contingency fee basis. You owe no attorney fee unless The Nix Law Firm wins your case.
The Nix Law Firm — Decades Of Experience, Reputation For Results In:
Brain Injury, And Spinal Cord Injury Cases
A closed-head wound or injury to the brain or spinal cord can lead to years of expensive, advanced therapies and financial burden on a victim's family. If this has happened to you or a loved one, contact The Nix Law Firm immediately.
Did a relative's traumatic brain injury or spinal cord injury in an accident become fatal and a case of wrongful death? We can help.
If you, or a loved one has experienced a brain injury, or a spinal cord injury in South Oklahoma, or North Texas call today. Our phone number in Lawton, OK is — 580-713-0871. Our Wichita Falls phone number is 940-213-0828. We welcome your email message. Home and hospital visits are available upon request.