Burn Injury Lawyer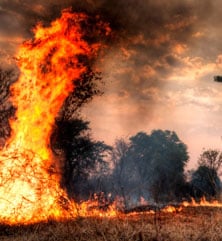 When a severe burn injury and permanent burn scar interrupt your life after a serious accident, the skilled personal injury attorney who protects your rights is David M. Nix of The Nix Law Firm.
During his decades of aggressive, successful service for Texoma clients, David M. Nix has become the only personal injury attorney in the region to be named a Top 100 Trial Lawyer by The National Trial Lawyers; a finalist for National Trial Lawyer of the Year, as named by the Public Justice Foundation; Board-Certified in Personal Injury Trial Law by the Texas Board of Legal Specialization; Nationally Board-Certified in Civil Trial Advocacy by the National Board of Trial Advocacy; and recognized as a Super Lawyer in Texas Monthly magazine since 2006.
The reasons for these unique accolades, and the cornerstones of our practice, are dedication, commitment and experience. The Nix Law Firm puts these qualities and credentials to work for you when severe burns, scarring and disfigurement result from a blaze at a refinery, industrial plant, drilling instillation, restaurant kitchen or anywhere a fire can break out.
David M. Nix accesses investigative resources that can look carefully into causes of the car fire or workplace explosion that injured you. He will confront insurers with the facts of your case, work hard to settle your personal injury claim out of court and litigate forcefully when necessary to achieve the justice you deserve.
At The Nix Law Firm, we know the challenges you face — lost wages, mounting medical bills, physical pain and suffering, and emotional trauma that could last for years. We hold negligent motorists, property managers, product manufacturers and business owners — and their insurers — accountable throughout the legal process.
To ease any concerns you might have about the costs of our representation, we offer a strict contingency fee policy. You owe no attorney fee unless we win your case.
Contact burn injuries lawyer David M. Nix and The Nix Law Firm in Wichita Falls, Texas, or Lawton, Oklahoma.
The Nix Law Firm — Attorneys With More Than 50 Years Of Combined Experience With Burn Injury
Call 940-213-0828 in Wichita Falls, TX area, 580-713-0871 in Lawton, OK area, or you can also email The Nix Law Firm. Home and hospital visits are available upon request.